Lewisham Sound System Trail, May 2022
Posted on 1 June 2022 in


by SST Team : Brian D'Aquino, Nathalie Hyacinth,
The Lewisham Sound System Trail was an event organized by the Lewisham Borough of Culture 2022 comprising of four open air sound system stages, or yards, set up in the Deptford area and featuring established and up and coming sound system operators, singers and MCs from the Lewisham borough. Unit 137, one of the four sound systems, also featured live performances from local young creatives who are currently attending the Goldsmiths Alchemy series of sound system masterclass workshops that Sonic Street Technologies is supporting. The event was very enjoyable and deeply thought-provoking, showcasing a wide range of talents and artistry gravitating around sound system culture today. Sonic Street Technology researchers Natalie Hyacinth and Brian D'Aquino report on the event.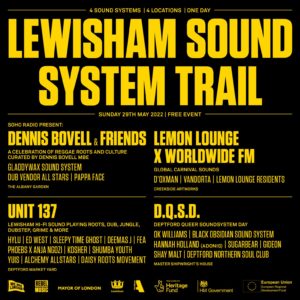 "Back to back I'm rhyming

You don't even know that I be here cus when I'm here I just be finding

My own path, but I don't really see the graph

Since statistically I know that you are meant to feel alarmed in my presence

Am I disfigured cus of melanin?

Half black half Arab, they don't know that I be meddlin

When I'm just here to break the narrative

Because my skin is coloured, you must think that I'm inadequate

Well test my brain and you will see

The colour of my skin does not define what I will be"
Above is a section of a spoken word piece performed by Refrain, a young spoken word artist and rapper and one of the Alchemy Allstars that performed on the Unit 137 sound system as part of the Lewisham Sound System Trail on Sunday 29th May 2022. One of the most powerful moments of the day, the piece showcased the incredible and inspirational talent of young people in the borough.  
The Alchemy Allstars are a group of young local creatives, including singers, rappers, musicians, formed from the Alchemy music workshops that take place every Saturday at the Goldsmiths music department. Alchemy, founded by Mikey Kirkpatrick who is also a lecturer in music education at Goldsmiths university, provides a youth music workshop programme for professional music skills training, mentoring and performance opportunities to local 13-18 year olds. Goldsmiths Alchemy and Sound System Outernational, together with Unit 137 sound system, Sonic Street Technologies and the Lewisham Borough of Culture 2022, have teamed up to deliver this series of sound system masterclasses and workshops.  
Alchemy is a bespoke programme of music learning and practice where young local creatives are not only taught music skills but also given the guidance and opportunity to perform at public community events such as the Lewisham Sound System Trail on Sunday 29th May 2022 in Deptford, the subject of this blog, Lewisham People's Day on Saturday 16th July 2022 at Mountsfield Park in Catford, amongst others. Alongside this, students are also given the opportunity to make their very own, hand pressed vinyl record in the classic music tradition of dub and sound system culture.  
Since April 2022, the students have been partaking in the programme, learning about sound system musical performance and culture, with the first iteration being the Sound System Masterclass with Unit 137 sound system that took place at the Albany on 12th April 2022. A blog about the day can be found here. My interest in the Lewisham Sound System Trail stems from my ongoing case study on sound and sound system history and culture in Lewisham. I have been attending the Saturday Alchemy workshops to experience the local sound system learning that takes place, connecting it to my research on sound culture in the borough.  
Each Saturday at Alchemy, Hylu, founder of Unit 137, along with help from Jerry Lionz and Phoebs, have been mentoring students on sound system practice, a new and unexplored way of music making and performance for many of the students. The Sound System Trail was a chance for the students to showcase their talents and some of the sound system related performance practices they have learned over the last few months. The Sound System Trail was a unique and important event for the students, the first time they would be performing their music on a sound system for the public. Speaking to various students at the Trail, the sense of excitement and anticipation was evident, with many looking forward to seeing songs they had worked on come alive through amplified sound. The Alchemy Allstars performance was a brilliant showing of how young creatives can learn new styles of music through mentorship, creative exploration and intergenerational guidance.  
Alchemy Allstars performers on the day were: DJ Baconrasher, Lina, Itskevkeyz, Rebel Banks, Jamie, POV1SM, Kenny, Taiwo, Refrain, Beanz the Artist, Ibz Mullah, Rkida, along with King Vito who heads up the Unleash Your Talent collective. The Allstars displayed an impressive array of creative and musical talent ranging from singing, rapping, spoken word and music production.  
The Allstars showcase began with a piano driven instrumental from DJ Baconrasher that set the explorative and innovative musical tone for the day. The first to perform was Lina who performed a song she wrote, helped with Yasmin Ali aka Y.A. Poet, an Alchemy music mentor, called Ladybird. Lina said the song was about bravery and courage, a fitting opening for the other performers, who all local to the borough, had shown much courage in stepping forward to showcase their talent to a large public audience, as well as on the powerful Unit 137 sound system.  
POVISM performed an energetic rap that was engaging and fun to join in with. Asking the audience to clap during his chorus, he demonstrated great performance skills and confidence in working a large crowd.  
Another striking performance was by Kenny and Taiwo who performed an original song written by Kenny called 'Never Give Up'. The song was initially an acapella that Kenny performed on the Unit 137 sound system in April 2022 at the Sound System Masterclass. Over the subsequent weeks, Hylu, Michael Kirkpatrick and Jerry Lionz worked with Kenny to transform the piece into a reggae song, fitting for the cultural legacy of sound system and culture in the borough. It was a lovely moment to see the song that began as an acapella, being so perfectly performed by Kenny and his brother Taiwo on the Unit 137 sound system. Speaking with Kenny before his performance, he expressed his excitement at performing for the crowd and sharing his music with the world. The evolution of Kenny's song showed how young people can be mentored to learn and perform sound system styles, helping them expand their musical repertoire and cultural horizons.  
Beanz the Artist singing and rapping and Ibz Mullah's rap performances were both high energy sets with rhythmic beats that got the crowd moving.  
The Allstars performance concluded with a cipher, a hip hop cultural practice in which a group of rappers take it in turns to rap and rhyme lyrics and freestyle. The cipher is similar to many group singing collective practices in sound system culture, where multiple performers share the microphone. It was great to see the students showcase their talents in this creative and collective way, each passing the microphone to the next performer and supporting one another in their talents.  
Refrain, the compere of the event, concluded the Alchemy Allstars performance with a thank you and a big up to all the performers. A huge cheer from the crowd rounded off a great performance by the students with brilliant and expert help, support and tailored guidance from Unit 137, Hylu, Michael Kirkpatrick, Jerry Lionz, Phoebs and Anja Ngozi.   
Unit 137 artists performed on the sound system after the Allstars, showcasing a range of talent.  
Following the Alchemy Allstars, was Phoebs and Anja Ngozi's performance. Followed by Ed West, Sleepy Time Ghost, Shumba Youth, Kosher and Yuis. Finishing with Hylu and Deemas J as well as Fea who opened the session and the Daisy Roots Movement dancers. A great set from Unit 137!   
Unit 137 was set up in the Deptford Market Yard, a central Deptford spot with a great urban vibe to it. It was very interesting to witness the reaction of casual passers-by, especially before the session got rammed. 137's set up merges the traditional appeal of custom-built reggae sound systems' scoop bins with a more versatile approach to performance, with live instruments played alongside recorded music.  The two full stacks sounded clear and powerful, providing the perfect backing for a session very rich in vocal performances and music variety.  
There were three other sound systems as part of the trail: Dennis Bovell and Friends on the Gladdy Wax sound system, Lemon Lounge and the Deptford Queer Sound System Day collective. The four yards were at walking distance from each other within Deptford, not close enough to turn the neighbourhood into a Carnival-style roadblock but sufficiently to invite the crowd to a passionate pilgrimage in search of one's 'best sound'. 
Lemon Lounge sound system was installed in the courtyard of Creekside Artworks, gathering a smaller but still energetic crowd dancing to a variety of music genres played by different selectors throughout the day. The yard was powered by a beautifully crafted, custom-built system including cutting-edge paraflex cabinets and more traditional style tops. The sound was definitely oversized for the space, so could not be pushed any loud – we look forward to a next chance to hear it in all its glory! 
Another session, under the banner of the Deptford Queer Soundsystem Day (DQSD) took place in the outdoor garden of the Master Shipwright's House, a very scenic spot along the river Thames. The curiosity about the location, usually not open to the public, might have added even more to the appeal of the line-up. The result was a yard bubbling from the early hours, including lots of families with kids and a greatly diverse and stylish crowd, enjoying musical entertainment provided by a well-assorted bunch of DJs representing the London queer community, including Gin from B.O.S.S. and DJs from Adonis, among others, performing on a simple PA-styled sound system provided by R3. The place became virtually inaccessible in the afternoon due to the extra-long cue of punters – well done DQSD! 
The fourth stage, presented under the banner of 'Dennis Bovell and Friends' and curated by the British reggae maestro himself, was hosted at the Albany Garden, which some of the attendees described as 'a hidden beauty in Deptford'. Selectors on the day included Gaffa Blue and Papa Face as the Dub Vendor All Stars, and Gladdy Wax, playing vintage 7 inches wearing his trademark white gloves. The Gladdy Wax sound system, which all Notting Hill Carnival attendees would be very familiar with, powered the entire session. As you would expect, the music policy was strictly Jamaican wax and vibes, with some occasional forays into R'n'B and funk. This spot had a strong Caribbean presence and a remarkable intergenerational turnaround, including families with young kids and several elders in attendance. 
What this day made clear is how sound system culture is currently evolving and being actively reshaped by a new generation of sonic activists in order to suit different identities, needs and sensibilities, and to navigate a changing social and cultural environment. This is reflected in all aspects of the culture: the music and the technology, the performance style, and the type of crowd – in terms of age, gender, class and ethnicity – it caters for. At a deeper level, it also interrogates the role a street sonic culture can play within an urban space that is increasingly regulated, policed, and gentrified.  
London provides the best possible angle to appreciate this process in the making, being the home-outside-from-home for 'traditional' sound system culture but also a very fast-moving and culturally thriving environment. It is also the city where most of the new generation of sound systems operators around the world look for inspiration and guidance – so what's happening here could legitimately be taken as a glimpse of what is about to happen elsewhere.  
In this sense, the ultimate challenge for the current generation of sound system operators and supporters around the world will probably be to keep the culture thriving through adaptation and cross-fertilization, while shielding it from being sanitized, whitewashed or appropriated by neoliberal and corporate market forces. As researchers, practitioners and – first and foremost – longstanding sound system fans, we feel grateful to be able to document this process and we cannot but wish all the best to the culture for many generations to come. 
The next performance date for the Alchemy Allstars will be for the upcoming Lewisham People's Day on 16th July 2022. Unit 137 will again host the Allstars, providing support, mentorship, and intergenerational guidance on sound system culture and performance practice. Well done to the Alchemy Allstars and Unit 137 sound system for putting on a brilliant performance!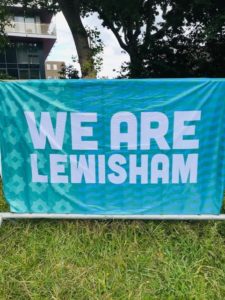 —
Natalie Hyacinth is a Researcher and Research Manager in the SST project and a sound explorer working at the intersection of Black Studies, Afrofuturism and Cultural Geography.
Brian D'Aquino is Senior Research Assistant in the SST project.  Author, sound system practitioner and music producer, he is based in the Southern side of Europe.