'Sound in' Lewisham' Sound System Masterclass, April 2022
Posted on 22 April 2022 in


by Natalie Hyacinth :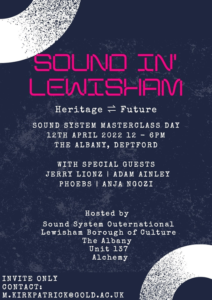 SST's commitment to researching and supporting sound system culture comes to nothing unless we take some care of its future with the younger generation. Another commitment the project has besides work globally – is not to forget our local community in Lewisham where the project is based at Goldsmiths, University of London. These two central tenets bore fruit recently in an event SST supported. This demonstrated for local young people the sound of a real live sound system (possibly for the first time). It was designed to inform and inspire them about Lewisham's place in the history of sound system culture. Also included was a workshop with local sound system professionals as an opportunity for them to improve their sound system performance skills. Not only was this a highly enjoyable experience for all of us there; it was also a valuable SST research opportunity on the learning of sound system skills. 
—
As a researcher recently joining the SST team, one of the stories that struck me from the day's introductory biographical talks was from Jerry Lionz who described his experiences growing up and within sound system culture in Lewisham. Musician and producer Jerry is a local legend, so it was fascinating to hear a first-hand an account of the evolution of an important and historical music scene in the city. Jerry animatedly described the ways in which sound was a form of survival or a 'lifesaver' as he put it, for the recently settled Caribbean community growing up in London in the 70s and 80s.  
Jerry described how the first sound system in a London Caribbean household was in fact a radiogram with a turntable and a radio, recounting how though his broke down a few times, he was still able to enjoy sounds from it. I felt particularly connected to this story as my own parents, who migrated to the UK from the Caribbean in the 1960s, also owned a radiogram. Jerry's retelling brought vivid memories for me of my father playing Dub and jazz records on the gram growing up, and the important ways in which this simple piece of sonic technology brought families together, both within the home and outside of it. 
I also enjoyed Jerry's stories of local sound system culture and was amazed to hear that a well-known photograph of the truly legendary Jah Shaka sound system was taken at the Albany circa the 80s, wow! So the feeling that sound systems have come full circle, back to the Albany and continuing the important and vital work of inspiring and supporting young people in the space, was immense and profound.  
But to give some background, Jerry's talk was a personal highlight from the 'Sound in' Lewisham' Sound System Masterclass Day that brought together local Lewisham sound system artists with young creatives. It was organised by Michael Kirkpatrick, Director of Alchemy music workshop (based at Goldsmiths, University of London) and Hylu the local founder of Unit 137 sound system and collective and was staged at The Albany arts centre in Deptford, south London, on Tuesday 12th April 2022. The event is the second in a series of youth centred music workshop events sponsored by Sound System Outernational, this one with the support of Lewisham Borough of Culture and SST; the first workshop took place back in 2018.  
The day was split into two sessions. The first half of the day, Unit 137 artists Hylu, Phoebs, Anja Ngozi and Jerry Lionz introduced their personal and biographical perspectives on sound system culture followed by a Q&A from the audience. Following this, the artists each performed their musical works.  
Phoebs and Anja provided a great example of the ways in which Dub and bass sounds from their elders had inspired them, the next generation of music makers, to continue the legacy of sound system culture. Phoebs, who draws much of her artistic work and inspiration from hip hop and rap, traced the lineage of bass sounds from Kool Herc, considered to be the 'godfather' of hip hop who moved from Kingston, Jamaica to New York in the 70s, to Lauryn Hill and the Fugees. This lineage was also touched upon by Anja who reflected on the intergenerational connections Black music provides, linking her to a spiritual sense of home. Calling the sounds, particularly the low frequencies of bass music a type of 'healing', Anja describes how an anti-establishment and revolutionary form of music such as Dub can also act as a holistic relief for a people under pressure and strain from their environment. 
Hylu from Unit 137 echoed this poignant sentiment in his reflections on sound system by describing how the love within the sound system, meaning the love and energy that it takes to build a sound system and a solid, unified team, translates to a love for the people the sound system provides the sound for. I felt the mention of love was a really important theme of the day, particularly in relation to sound system culture as sound system culture is, in essence, about love. Love for sound, community and people.  
The introductory presentations and reflections were followed by musical showcases from Unit 137, each showcasing their musical expertise in a variety of forms. Phoebs and Anja Ngozi were first to showcase their amazing musical and creative skills. Working with two electric basses, an SP 404 Roland drum machine, midi keyboard, loop pedal and their voices, Phoebs and Anja provided a powerful performance and show of unique, raw talent. I found it especially inspiring to watch Phoebs and Anja perform particularly as women of colour, who are often disempowered and alienated from the music production process. 
Jerry Lionz then performed a brilliant dub showcase, showing how the mixing desk becomes an instrument through the live tweaking and manipulating of sounds, effects and time. He described how mixing a Dub tune live like this is impromptu and improvisatory, no one mix will sound the same. Describing this process as the 'studio in the dance' it highlighted the incredible early innovation of Dub pioneers such as King Tubby and Lee 'Scratch' Perry and the ways in which this unique musical process is still being innovative today as displayed by current artists such as Jerry Lionz. Jerry performed a live Dub remix of Bob Marley's 'Lively Up Yourself' in which he described how he took Bob's acapella, creating a new Dub riddim around it live. The version sounded beautiful! 
Then it was Hylu's turn. He performed an original track produced in his Lewisham based recording studio on the sound system. The track, called Zaf, was from his recently released debut solo EP Latent Variables Vol. 1. I found the track to be an interesting and wonderful piece of music, echoing various sonic inflections and genres across time and space.  
The second half of the day, the young creatives were given a chance to showcase their work on the Unit 137 sound system with feedback from the crew. The young creatives who performed were all brilliant examples of local talent and how young people can shine when they are supported and their talents and passions invested in. The young creatives that performed on the day were:  
Kenny  
Each performer showcased a range of talent, from rapping, singing to music production. Supported in their craft by their Alchemy music workshops, the young creatives showed passion, drive and talent. I found it inspiring to watch the Unit 137 crew mentor and coach each young performer after their performance, particularly in the ways they could gain confidence when entering the often challenging world of the music industry. Before they began their performance, each performer was invited to do a sound check with Hylu on the sound system, which I thought was a great way to introduce the performers to professional musical performance.  
To round off the day in the best way, the young creatives performed an improvisatory freestyle rap piece in a circle by the sound system. Freestyle rapping to a grime beat being played, the spontaneous piece provided further proof that young people have talent to not only create, but to improvise, innovate and keep pushing the sound and culture forward.  
To conclude, I feel the day was an important and vital example of intergenerational sharing; passing wisdom and knowledge of music, the music business and performance practice onto the younger generation. Eager to learn, but often not heard, the masterclass gave young students a voice and a platform to have their work not only reviewed and critiqued by an experienced elder, but also celebrated and acknowledged both by the elders present, their music educators and their peers.  
I feel the day also highlighted the central role that intergenerationality has in sound system culture in particular. As with many global music forms, sound system culture is passed down from one generation to the next. Though, what I feel sets sound system apart from other music forms is that it is not always passed down to a subsequent generation in its entirety or whole. Instead, as from examples that were displayed on the day, the culture is passed down through various familial iterations and deviations of the music, via the innovate and boundary pushing evolution of one bass genre to the next. From examples of Phoebs talking on how she discovered her love of reggae through samples in jungle music, hearing Hylu's track that brilliantly drew on a multitude of bass genres, to hearing the young people talk about their sonic influences, the Masterclass was a great display of the way sound system culture powerfully connects one generation of sonic culture to the next through innovation, adaption and mutation.  
Related ideas of lineage and community were also repeated throughout the day. I felt this was a powerful example of the ways in which music provides joy, pride and unity to a marginalised and minoritised people. As Bob Marley famously said, when music hits you, you feel no pain. Thus, the Masterclass was a real joy to take part in and I believe the forthcoming continuation of the Alchemy workshops will greatly serve both the local youth and the wider borough itself. 
The April 2022 Masterclass also served as a launch for the Alchemy youth music workshop programme for professional music skills training, mentoring and performance opportunities to local 13-18 year olds. The workshops take place every Saturday at Goldsmiths university and will culminate in the young creatives making a vinyl album of the music they create during the programme and performing a set on the Unit 137 sound system stage at the upcoming Lewisham People's Day on 16th July 2022. 
—
Natalie Hyacinth is a Researcher and Research Manager in the SST project and a sound explorer working at the intersection of Black Studies, Afrofuturism and Cultural Geography.