Announcing SSO#8: UK Sound System Reasoning Day
Posted on 19 October 2022 in


by SST Team : Christine Hannigan, SSO#8 Event Producer,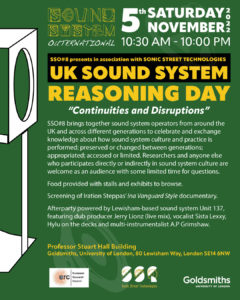 SST is proud to support Sound System Outernational #8, to be held in London on Saturday 5th of November 2022. SSO#8 UK Sound System Reasoning Day: Continuities and Disruptions, brings together sound system operators from around the UK and across different generations. We aim to celebrate and exchange knowledge about how sound system culture and practice is performed; preserved or changed between generations; appropriated; accessed or limited.  Through several reasoning sessions, we will learn how different practitioners started their sound systems; their approach to their practice and why; and how various political and social situations have influenced their sound system approach. How and why is the culture transforming, or being passed down and preserved, or being gatekept, or appropriated? What are the responsibilities of youngers and elders? What does the future hold? 
We will also explore how broader cultural landscapes and technological changes inform practitioners' experiences. Indeed, is the traditional definition of a sound system still fitting, given technological and media platform changes in sound systems' social and musical functions? The sessions are for sound system practitioners – artists, DJs, selectors, engineers, musicians, and activists – to reason with each other. Researchers and anyone else who participates directly or indirectly in sound system culture are welcome as an audience with some limited time for questions.  
SSO#8 builds on the rich history of research events organized by Sound System Outernational since 2016 in London, Kingston Jamaica, Naples Italy and Sao Luis Brazil (eventually held online due to the Covid-19 pandemic). With a focus on the practitioners' lived experience, SSO has aimed to promote the dialogue between academic researchers and soundman and soundwomen for mutual benefit. This is based on the idea that the culture has its own embodied knowledge and ways of knowing that need to be recognized and given due respect.  
In this sense, SSO#8 will be a special event compared to previous ones as it will include only practitioners discussing in between themselves. This format is part of the SST research project and follows another successful reasoning session between practitioners that was held in Jamaica in February 2022. The focus of SSO#8 will thus be on the UK scene, its current state, the changes the culture has gone through and the challenges that practitioners did and continue to face in order to keep sound systems thriving in this country. Most importantly, the discussion will have an intergenerational angle trying to promote dialogue and mutual acknowledgement between different generations of sound system practitioners – which is key for the survival of the culture.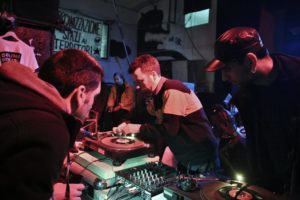 Sound System Outernational, Naples, Italy, 2019
The first two reasoning sessions will run in parallel. One will be amongst the younger generation of sound system operators, chaired by Yassmin Foster of Legs Eleven sound system. They will share how they came to be involved in sound system culture, their influences and motivations for participating in and perpetuating it, and how this may have changed over time. We will also discuss what informs their practice, and how this is influenced by the spaces they create or that are available to them.  
The other reasoning session, chaired by June Reid of Nzinga Soundz, will be amongst veteran sound system operators. We will learn more about the broader and local cultural landscapes they were/are operating in. These practitioners will share how they have innovated and adapted technologies, and how these innovations impacted wider sound system practices.  
Both reasoning sessions will come up with three questions for the other group for discussion in the afternoon. Two parallel intergenerational sessions, chaired by Mykaell Riley and Lez Henry, will bring together the participants of the first two reasoning sessions to further tease out some of the themes and challenges discussed in the morning, as well as to hear their vision for the future of sound system culture. Afterwards, panellists and audience will enjoy a screening of Iration Steppas' documentary Ina Vanguard Style. 
Outside the reasoning sessions, the atrium of the Professor Stuart Hall Building will be filled with various exhibits and stalls. The two exhibitors will be Sisters in Sound and Let's Play Vinyl. The stalls include Lewisham Rebel Music Map, Sonic Street Technologies Sonic Map, and BASSISbikes. Papa Face will run a pop-up record shop, and local bookseller The Word will have a stall selling books. Local Black-owned family business Pristine Eats, is catering lunch and dinner.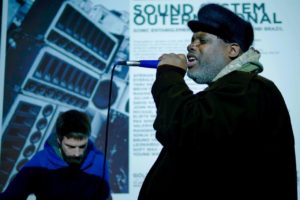 The late great UK Principal performing at SSO#1 in 2016
The day will feature a great selection of sound system DJs and musicians. Nzinga Soundz will supply the music via Unit 137's system during morning check-in, break and during the lunch hour. BASSISbikes will play during dinner, and Unit 137 powers the after-party featuring artists Jerry Lionz performing a live dub mix, vocalist Sista Lexxy, Hylu on the decks and multi-instrumentalist A.P. Grimshaw. 
Programme: 
5 November, 09.45am: Hotel guests meet in lobby for walk with SSO#8 staff to venue (optional)
10.30-11.00am: Check-in and light refreshments at Professor Stuart Hall Building (music supplied by Nzinga Soundz)
11.00-11.15am: Welcome from SSO and SST
11.15-12.45pm: Younger and Veteran reasoning sessions run in parallel, chaired by Yassmin Foster and June Reid
12.45-13.45pm: Lunch (music supplied by Nzinga Soundz)
13.45-15.15pm: 2 intergenerational (younger/veterans together) reasoning sessions to run in parallel, chaired by Mykaell Riley and Lez Henry
15.15-15.30pm: Break (music supplied by Nzinga Soundz)
15.30-16.00: Final remarks, led by SST
16.00-17.30: Film screening followed by Q&A with Dennis Rootikal: Ina Vanguard Style: A Documentary On Iration Steppas
17.30-19.00pm: Dinner, sound supplied by BASSISbikes, from Lionbeat
19.00-22.00pm: Afterparty in the Atrium, powered by Lewisham-based sound system Unit 137
22.00-01.00am: After-afterparty – Juke Joint Jamaica with DJs Tiny T and Lucky Cat at Isla Ray Cafe, 37 Deptford High Street, SE8 4AD
The event will be filmed, recorded, and captured on social media, but will not be live-streamed.
Exhibits and Stalls: Deptford Dub Club, Sisters in Sound, Let's Play Vinyl, Sonic Street Technologies Sonic Map, BASSISbike, Sound System Culture, The Word Bookshop, and Papa Face Record Shop
Please see the Eventbrite link below to book a free ticket! 
https://www.eventbrite.co.uk/e/sound-system-outernational-presents-sso8-uk-sound-system-reasoning-day-tickets-416558526767 
Please see the Sound System Outernational website for further information: 
https://sites.gold.ac.uk/sound-system-outernational/