Rewind/Forward Exhibition in Toronto, Canada
Posted on 30 March 2023 in


by Guest Author : Alanna Stuart,
Sonic street technologies take many forms and play many different kinds of music, but one amongst them – the reggae sound system – has travelled particularly far and wide. Historically its journey has been in the company of the Jamaican diaspora who are very well represented in Canada. As Jamaican music and culture has taken root in "foreign," with new generations it has branched out in new forms, such as the exhibition we report on here. This year marks the 35th anniversary of Canada's Multiculturalism Act. It was a ground-breaking policy at the time that promoted an ideology of ethnic and cultural diversity. It sought to acknowledge and protect all members of society, including the new citizens who arrived during Canada's 1970s and 80s immigration boom. As London became a hub for the Windrush generation, Toronto became home to this Jamaican wave, eventually becoming the third largest Jamaican diaspora in the world. But while the Multiculturalism Act promised to "foster the recognition and appreciation of the diverse cultures of Canadian society and promote the reflection and the evolving expressions of those cultures", the immigrants themselves lack the acknowledgment their customs garner.  
by Alanna Stuart
Hailing up Toronto's sound system culture as well as those generating it is the motivating force behind the creation of Rewind/Forward, a two-part photo-based public art show (in-person and online) spotlighting the city's obscured bass music scene. Rewind/Forward magnifies the culture heritage through monumental images (and accompanying image descriptions), taken by Jamaican-Canadian photographer Jorian Charlton, of five notable Toronto-based selectors (DJs) and soundsystem owners: Heather "Live Wire" Bubb-Clarke, Tasha Rozez, Ace Dillinger, Nino Brown, and Bambii.  
The exhibition launched with a block party in the late summer of 2022, in the historically Jamaican Annex neighbourhood. Folks of all backgrounds communed to a classic dancehall set blasting through indie record label Telephone Explosion's portable system. People refreshed under the sun with the free champagne cola, coconut water, or peanut punch, and plantain chips on offer. Hovering above their heads were the selectors' photos taking up the whole facade of 854 Bathurst St, a Jamaican-owned building that has strictly provided  Caribbean goods and cuisine for over 30 years. 
The project was conceptualised and developed by Alanna Stuart, a Canadian-born music artist and researcher whose Grenadian mother and Jamaican father emigrated to Canada as part of the early Caribbean immigration wave. "I intentionally made the photos large and loud so that the selectors—the people—parallel the magnitude of Jamaican music culture's undeniable presence in this city," says Stuart. Online, the selectors' voices are given equal prominence through audio stories narrated by the system owners, stylized informational videos, and biographical text that conveys real life experiences that contributed to the evolution of Toronto's bass music community.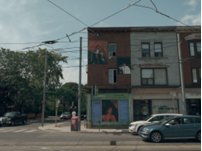 The impression made by the multidisciplinary project's content and message is heightened by its interactive format. Rewind/Forward was intentionally developed to invite conversation by including prompts that encourage active engagement with visitors. When passersby encountered the art labels beside the photos, they'd also come across a quote from the featured selector. For instance, beside Tasha Rozez's name is her recalling the feeling of family trips to Jamaica. "You swear you're a real Jamaican up here, but you go down there, and your relatives are telling you, 'yuh nuh know nothing.'" In response to Tasha's diasporic experience, the label includes the question: Have you ever felt like a foreigner in your own family? This was Stuart's attempt to remove the fear of not knowing. "Rewind/Forward is for the novices and heads alike," she says. Visitors are inspired to wonder, and to engage more actively with the perspectives of the Caribbean people they live amongst.   
Part-retrospective, part-forecast, the selectors' accounts span pre-Independence Jamaica to Toronto rave futures. Through their histories, Stuart invites us to rewind and learn the everyday ways Jamaican music culture left the island and came to have such a deep influence on Toronto. Bubb-Clarke shared how she came to Canada with $50 (the maximum amount you could leave Jamaica with at the time) and her record crate. "I took my 45s, and daddy made sure that I got my albums. And when I went to house parties here [in Toronto], nobody had any music." Stuart also invites us to recognize who or what is forwarding the culture (and who or what is holding it back). Now retired, Bubb-Clarke says, "it's up to the next generation." Ace Dillinger, a Jamaican descendent and resident DJ of a monthly sex-positive party in Toronto, credits the queer community with advancing creative ideas. "Sorry to tell you. And we are the ones that are, like, helping push culture and music and innovation and fashion and all of these things forward," Dillinger asserts.  
Rewind/Forward selectors collective reflect on the question: How would you describe Toronto's sound system culture? Does it exist here? Together, they chat diasporic identity crisis, Toronto's cultural mix-up nature, city red tape, and how Toronto Jamaicanness is taken for granted. Video produced and directed by Alanna Stuart. Shot by Roya Del Sol, and edited by Graeme "DJ Gramera" Mathieson and Jadon J.B. Williams of Bonfire Originals.  
For all its reflective documentation, Stuart insists that Rewind/Forward "isn't meant to be a formal education."  None of the five Toronto selectors and soundsystem owners would identify as the definitive voice of Toronto soundsystem culture. Instead, Stuart reached out to practitioners she'd been inspired by. She's danced to Ace's, Nino's, and Bambii's sets; met "Live Wire" through a friend of a friend who alerted her to the sale of Bubb-Clarke's system (Stuart is now the keeper of her speaker boxes); and stumbled upon the clips of Rozez's selections on her social media page, which brought Stuart back to late nights at Weddy Weddy and Passa Passa in Kingston, Jamaica. As she learned more about the five featured soundsystem practitioners, she noted the collective story their differing narratives told. Stuart noticed that "the tunes they all run and the jams they throw, the communities they check for, and their upbringings offer different entry points into learning about Toronto's local bass music culture."  
Heather "Live Wire" Bubb-Clarke, a Jamaican-born elder who established one of the first femme-owned sound systems in Canada after emigrating in the late 70s. 

 

Tasha Rozez, a Toronto-based selector and co-founder of Gunz N' Rozez Sound, grew up on dancehall mixtapes brought back from family visits "to country," in Clarendon, Jamaica. She eventually went on to become one of Toronto's only women soundclashers. 

 

DJs Ace Dillinger, Nino Brown, and Bambii have built more inclusive nightlife spaces centring queer Black, Brown and allied people, including Yes Yes Y'All, and JERK, respectively. 

 
The idea for the exhibition came about after Stuart's first ever visit to Jamaica, her father's home country, in 2017. There, she apprenticed at the Jam One Soundsystem Federation, produced by reggae legends Sly & Robbie, and relished the sensation of moving through a place she was of, but not from. "It was after that visit that I could feel and see how the ways of being inherent to Jamaican and other immigrant groups were so enmeshed with Toronto daily life, that they'd become hidden and, even worse, forgotten." Stuart said she could point to signifiers of Jamaican presence in the city such as Jamaican beef patties, which food inspectors tried to forcibly rename in the 1980s for fear of Canadians mistaking them for hamburger patties. Despite the peculiar intervention, beef patties became a widely available snack in subway station shops and corner stores around the city. Jamaica's presence has clearly become a mainstay in broader Toronto culture, but Stuart found it hard to trace back to who or what reinforced Jamaica's cultural influence.  
Before producing Rewind/Forward, Stuart had a sense that she wanted to help clarify the link between the migration of Jamaica culture to Canada and the emergence of Toronto's bass music culture, but didn't know how. A year after her influential trip to Jamaica, she found pathways in University of Westminster's Bass Culture UK and French documentarian and multidisciplinary artist Sébastien Carayol's co-curated Jamaica, Jamaica exhibit. Both moved her to act. "I was compelled by Carayol's insistence on Jamaican music narratives being told in a way that resonates as much with the Jamaican community as they do with fans of other cultures," said Stuart, who would enlist Carayol's help as a mentor for the Rewind/Forward project. "Seeing how Jamaica's contributions to broader British society were visually, sonically, and energetically articulated through oral histories, documentaries, and print publications gave me a blueprint for how to make similar connections between Jamaica and Canada's music scenes," she recalled. Stuart reached out to photographer Jorian Charlton to visualise this link. In some ways, Charlton's recent Out of Many solo exhibition at the Art Gallery of Ontario pointed to a way in which second-generation Jamaican-Canadians are engaging with their heritage. For her show, she shot portraits of Jamaica's queer Canadian diaspora and featured them alongside prints from found 35mm slides of her father's photography that depicted everyday 1970s and 80s scenes of Jamaicans in New York and Toronto. Charlton's vision perfectly paralleled Rewind/Forward's aim to have Toronto's Jamaican history in dialogue with its present Jamaican community.  
Rewind/Forward was as much a project of vulnerability as it was community. Stuart admits to having had some fears about producing an exhibition on sound system culture that solely features femme and queer selectors, although she makes clear that this isn't a "women behind the sound system" project. She took the installation's storytelling aspect as an opportunity to call attention to the absence of Jamaican sound systems in public Toronto spaces, but also saw the importance of amplifying the Jamaican voices not often heard within the culture. "I wasn't naive about the tensions that could arise from eliminating men from the sound system story. Sound system culture is commonly presented as a masculine practice, so I knew that a lack of male presence could attract obvious critique."  
Stuart also had concerns about featuring queer practitioners so prominently. She didn't want to feed the "homophobic Jamaican" stereotype, but she couldn't be ignorant of the pervasive homophobia in Jamaican popular music culture either. Instead of being guided by fear, Stuart asked some of the selectors how they felt about it. Bambii, who throws the highly anticipated annual party JERK, had words for those who ascribe this particular discrimination to Caribbean society. "I don't feel necessarily like it's something like I have to reconcile because I'm very clear that homophobia is not inherent to the Caribbean; homophobia is inherent to colonisation, and colonisation is an acting force on the Caribbean." When Stuart asked Ace Dillinger, who was a long-time resident DJ for a queer, sex-positive party, if she was afraid to be featured, she asserted, "I'm not scared to say I'm hella gay… I can't worry about that because then who would I be?" She went on to share that, "it's not something that I shy away from. I'm going to be queer, regardless if you know it or not, the same way I'm gonna be Black. Like, I'm Black every day." Ace's advice for anyone who takes issue with her sexuality. "I mind the business that pays me. You should do the same." As for Tasha Rozez, who isn't queer and performs in more traditional sound system spaces, she has played Yes Yes Y'All, the decade-long queer, dancehall party curated by fellow featured Rewind/Forward selector Nino Brown. Stuart wondered about the connection between Rozez's more traditional sound system spaces and Nino's. "The common denominator with me and them is that they're good peeps. Their parties are heavily dancehall-based. You can't spell dancehall without me. You know what I'm saying? The crossover of people and different cultures, and just different people. Like, we're [more] similar than we are different."  
In the end, Stuart decided that worrying too much about one group risked alienating the other. Not only were her fears of how the selectors might be treated assuaged, but she realised that "producing this from a place of fear would only threaten to create a divide when I'm about making connections." Selector Nino Brown articulates what maintains such connections among and between global bass music scenes of any background. "The funny thing is it's a bunch of communities coming together, I think. You know, it's about feeling a little bit like an outsider, a little bit like a weirdo… being brought up with certain values and then being an adult questioning them… but still valuing them. And I feel like a lot of us find similarities on the dance floor."   
Rewind/Forward's in-person exhibit came down on New Year's Day 2023, the same day a new Jamaican restaurant took over the vacant space. The show will continue to grow online. Those who sign up to their mailing list (they promise "no spam. Not our style.") will receive "a slow and steady" release of art pieces. Full-length versions of the audio stories will be released via Queen's University's Black Studies Podcast; video shorts will dig into how Jamaican sound system culture compares to Toronto's; and custom music mixes by the selectors will feature on Equiknoxx's NTS show. Among the mixes is an archived live DJ set by Bubb-Clarke on cassette tape. The set is from a Toronto party in 1989, a year after the Multiculturalism Act was made official. Taken together, the Rewind/Forward project elements act as a counter archive by centring and documenting some of the faces and perspectives of those usually relegated to the fringes of Canadian society. Through powerful images of integral, but under-celebrated members of Toronto's sound system community, Stuart produced a nuanced view of the reservations, curiosities, and joys intertwined in the reality of pursuing the diversity dream. Rewind/Forward is a powerful documentation that, ironically, authenticates and disrupts Canada's self-image as a multicultural utopia.  
Learn more at rewind-forward.ca | @rew_fwd on Instagram 
Questions: rew-fwd@protonmail.com 
Alanna Stuart is Caribbean-Canadian music artist, researcher, and curator. Her Polaris Prize-nominated duo, Bonjay, creates and performs a bass heavy, soul-driven hybrid sound that the New York Times hailed as "Canadian Dancehall." She is also a proud member of the Queer Songbook Orchestra. Outside of the studio, Alanna conducts research in "diversity" and "innovation," and explores how creative industries engage with socially marginalised cultural producers around the world. Stuart is a Toronto Arts Council Leaders Lab Fellow, Radio Starmaker Fund board member, and Queen's Cultural Studies MA student.