First Monkey Sound System Dance
Posted on 5 April 2022 in


by Guest Author : Dakta Dub,
In a previous post, Dakta Dub and Roy Dipankar of Bass Sanskriti wrote about the inception of their new Monkey Sound System. In this post, Dakta Dub, with inputs from Roy Dipankar, takes us through the idiosyncrasies of Indian bureaucracy and cultural spheres that they navigated prior to their sound system launch, and lessons to take into the future of sound system culture in India.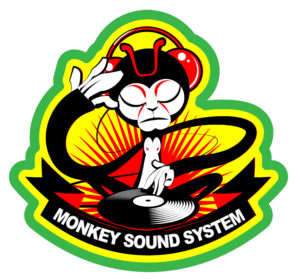 An immediate and rapid wave of the Omicron variant of coronavirus hit much of India around January 5th this year. We had to drop the original plan to launch Monkey Sound System in Hyderabad City. This was to be the first public performance event of the year for us, where we would witness the yellow sound machine lighting up a crowd. The groundwork with my crew warrior Psylenz (Abhishek Reddy) had already commenced in December 2021. We met the Assistant Commissioner of Police (ACP), introduced ourselves, explained what we do in words and with a presentation specially prepared to spread the message and intent. The ACP heard us and connected well with the words "Reggae", "UNESCO", and "Heritage." He gave us the permissions for the event. And we felt it was going to be easy. 
Little did we know that just around this time, the Excise Ministry of Hyderabad verbally declared that no live music, DJs, or sound systems would be allowed at nightclubs in Hyderabad, citing reasons like noise pollution and "bad culture" – a term often used to refer to cultural expressions that have not yet been accepted by the Indian elite or the mainstream. Suddenly, it felt like a dead-end to our sound system journey, but in a matter of weeks it all cooled down, and the venues were alive and kicking with music, like before. 
Then after the second week of January I was hit by Omicron, but managed to get well in just a week. Now, with COVID out of my way, and number of infections going down in the country, I had a bright new hope that the time was right to launch the system. I did my research on the process of applying for events permission, took a step forward, and decided on the date of March 6, 2022. 
Starting Over 
Step 1: On the e-services website of Cyberabad Police, I paid a fee of INR 2500, which is about GBP 25, and filled out the application form. The application was to get a permit for the sound system launch and it asked for the usual – name, address, company details, and more elaborate particulars of the event, like event time, whether the sound would disturb the neighbourhood, if the show is ticketed or free, if there would be sale of alcohol, number of close-circuit security cameras at the venue, parking facility details, security personnel, first aid room, ambulance, etc.
Step 2: We went back to the ACP office to check on the application form. They asked us to meet the Writer of local area police. We went and introduced ourselves and explained the event. The station head was not around and would come the next day. Finally, on the evening of the fourth day, I met the officer after a long wait at his office guest seating area. When I got to the meeting, I tried to give the PowerPoint presentation, UNESCO reggae newspaper print, and a few other documents. He just gave them back to me and asked straightaway, "What do you need?" I said, "I need permission". The officer ordered the writer to process the paper. The writer pointed to the officer, saying that the digital application had expired. And, now we would need to send physical documents to other offices.  
Step 3: Here I learnt, when an event application is submitted, it has to go through the local area office, the Assistant Commissioner, the Deputy, and then the main Cyberabad commissioner. The Cyberabad Commissionerate is the principal office of Cyberabad. Cyberabad is an urban and a blue-chip consortium of IT industrial neighbourhood in Hyderabad. 
Step 4: Once the local police processed the paper, it went to the ACP office, and within a day, it went to the DCP office. I thought, let me meet the officer and explain about the event along with the PowerPoint and, UNESCO documents. She told me to widely promote the message "Say No to Drugs" at the event and called the person in charge to process the paper. 
Step 5: This was 20th February. During this time, I got to spend some more time in the IT cell of the office, and I had a good conversation with the junior officers, who remarked that the day of my launch event (6th March) was too far from that day and that they will have a lot of other work to do by then, so my application will be processed nearer to the date of the event. They also shared with me the phone number of the 'Events Cell' of the main Commissionerate of Police. 
Step 6: Few days later, around 8 AM, I received a phone call from a certain traffic officer, asking me to come down as they wanted to investigate the traffic facility. I drove all the way from the centre of the city to the suburbs. I received two more calls from other neighbourhood traffic officers, to whom I assured them of robust parking arrangements for my event. And at that point in time, I conveyed to them that we were busy in preparations and would not be able to attend them personally this time.  
Step 7: On 5th March, I received a call from the Commissionerate Events Cell and they asked me to pay INR 7000 (around GBP 70), immediately for further processing, which we did, and finally, by the end of the day, I received a picture of the permission letter via WhatsApp. On the day of the event, a police vehicle came into the venue, asking for the permission letter, and also charged for a little extra 'fee', and scurried off. 
We receive the coveted permission letter as a WhatsApp mobile picture attachment. But not before much ado, providing meticulous attention to application forms from one officer's desk to another, trying to meet officials for over two weeks and explaining to them what we were bringing to the city, and all. 
The Launch 
Once permissions were sorted and out of the way, our biggest challenge was to organize tables for the control station, food and beverage canopies, water stations, and other arrangements. We had a couple of meetings with a few vendors. For the event, Monkey crew member Psylenz curated vegan and vegetarian food, kombucha drinks, tender coconut, amongst other things. Psylenz pulled all his contacts from restaurants and carefully prepared the menu, percentage share deals, canopy requirements, and vendor agreements. 
From 3rd March onwards, my crew became bigger by the day. King Jassim, the MC for the dance joined us all the way from Agubme, Karnataka, Rahul Mangal and YayaBee joined us from Goa. Rahul manages overall activities for my events, while Yaya is the sound man, co-operator of the system, loading and unloading – soundman style. Amith Surendran arrived from Kerala to film the event as a part of our on-going movie shoot for Sound System Sanskriti. Viraj, one of our old friends from Alibaug, brought his event planning and production expertise. Karthikesh, who just got married, has sent his friends who are professionals in box office management with support from their local crew and friends.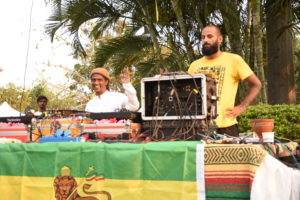 The venue – The Phoenix Arts & Culture Centre – is a project between the Phoenix Foundation and Telangana State Industrial Infrastructure Corporation. It has a large circular grass park. It is a non-alcoholic venue, perfect for a kid-friendly dance event that we were planning. 
On 5th March at midnight, we went to oversee production arrangements, including the position of the sound system, control tower, food, and beverage stalls. We also got fresh clay pots for free water distribution for one and all (we did not want to sell water bottles and avoid landfills with plastic!). On the day of the event, a truck that we had booked arrived by 7AM and eight o' clock it was loaded with the sound system, and travelled from the middle of the city on towards the west suburbs, which is mainly an IT suburb.  
It took us a little more than an hour to reach, unload the truck, stack the sound system, and make all the connections in the hot March Indian summer by noon. Narinder Pal Singh arrived from Delhi to set the cross-over points on amplifiers and Sage preamp, tune the system more precisely, as we were not fully satisfied from our tuning session in November last year. Meanwhile the tender coconut vendor set up stall, so all the crew stayed hydrated and everyone worked well.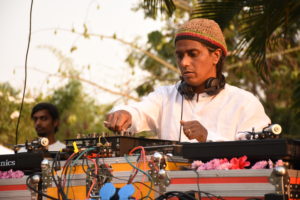 From 5PM, I started to select tunes, starting with the 'Bombay Theme' by A.R. Rahman, 'Brahma's Consort' by Shivacult, a Hyderabad-based Carnatic and electronic music producer, followed by 'Cave of Angles' by Dreadzone, slowly moving to roots music from Jamaica like Lee Scratch Perry's 'Come Along', 'Truths and Rights' by Johnny Osbourne, 'Bam Bam' by Sister Nancy and slowly moving to modern tunes like Hempress Sativa's' Long Time Inna dance', 'Hail Up Soundman' by Ria, 'Mystery Babylon' by Petah Sunday and UK Principal and many many more. I cannot remember all too well as I was on the vinyl deck for five hours whole! I did end the dance with 'Eternal Sunshine Dub', produced by Kone Kone and Barasingha from our in-house label, Shakuntala Records. This tune is a special one and also figures on our movie's 'first look' promo. 
The dance had excellent food vendors, starting with Irie Kitchen India, by Royal Dub, part of Monkey Sound System Crew who is eagerly waiting for his debut on the sound system. The little village cafe makes awesome rajma chawal (red beans gravy with rice) and other recipes; we had Wudbox – an eco-friendly lifestyle store, and AWBP Trust provided water bowls for street animals to quench their thirst.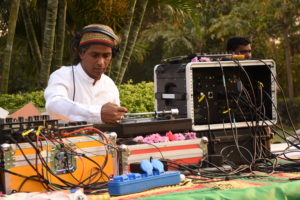 We had about 78 people in the audience; with small children, mothers, fathers, one grandmother, and many music lovers. Overall, the vibe was a signature Bass Sanskriti dance we have been creating over the years, and now driven by an actual sound system. 
From the first dance, we had a few shortcomings too. The power distribution box I purchased has been faulty, and it was dropping the signal each time we pushed the sub-bass. Because of so much time spent on processes involving application forms and permissions related activities, we fell short of a full-blown event promotion plan. All we could do was promote on social media and by word of mouth in the music community, which is not enough. There is a lot to do to bring people together to the sound system. After the first dance experience, I felt that there is a big void that remains in understanding, recognizing, accepting, and encouraging music, culture, and the arts.
Looking ahead 
Moving forward, I seek to increase more focus on promoting this subculture. We will need to prioritize music, culture, and the arts and find ways to promote the sound system culture in its actual way. Attract students, give them discounts, make them invite their friends. Visit schools, colleges and universities. Talk to the youth and their families, and so forth.  
Sound system culture is brand new in India, especially in Hyderabad. Sometimes I am afraid because, in my latest research on college festivals, I discovered that they bring popular actors from mainstream cinema, Bollywood singers, big glitz and glamour overriding everything else. We need to instil first, the primary concept of following subculture over the mainstream. 
My plan is to provide subculture themes as interesting, if not less, as the mainstream cultures, that the youth in Hyderabad follows. It will be a milestone journey and it has to begin now.