Announcing SSO#9: Premiere of 'UK Generation 2 Generation' Film
Posted on 27 April 2023 in


by SST Team :
Sound System Outernational #9:
Premiere of UK Generation 2 Generation documentary film
6pm, Saturday 6th May 2023, Goldsmiths, University of London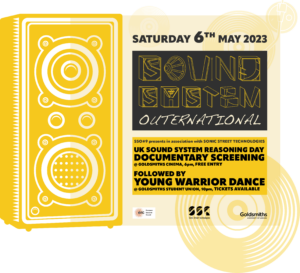 SST is proud to support Sound System Outernational #9, to be held at Goldsmiths University, London on Saturday 6th May 2023.  
SSO#9 will premiere the UK Generation 2 Generation documentary film, a compelling account of first-time-ever coming together of the UK sound system community. UK Generation 2 Generation is based upon the SSO#8 UK Sound System Reasoning Day: Continuities and Disruptions. The event was staged by Sound System Outernational in association with the ERC Sonic Street Technologies (SST) research project in November last year. Please see a blog about the event here.  
The film highlights the key points from a unique day of sound system reasoning between elder and younger UK sound system operators, capturing the vibes and excitement of the event. The discussions revolve around an exchange of knowledge and ideas about how sound system culture and its practices are performed, preserved, appropriated, or expanded between generations.  
Through several reasoning sessions, the film demonstrates/depicts how different practitioners started their sound systems; their approach to their practice and why; and how various political and social situations have influenced their sound system approach. Questions that emerged during the day and featured in the film are: How and why is the culture transforming, or being passed down and preserved, or being gatekept, or appropriated? What are the responsibilities of youngers and elders? What does the future hold? This research documentary is a first of its kind  to capture on film these important topics for the UK sound system community.  
UK sound systems featured in the film: 
Nzinga Soundz, Legs Eleven, Sisters in Dub, CAYA, Sister Culture, Lady Banton (Seduction City), Jah Youth, Young Warrior, Indica Dubs, Creation Rebel, Lionpulse, Nimai Hi-Fi, Rebel Spirit Sound, Black Obsidian Sound System, Neville King, Black Magic Family, Moa Anbessa, Sir Jessus, Rebel Rock, Earth Rocker, Zion Inna Vision, King Earthquake, Gladdy Wax, Jah Massagan, Dennis Rootical (Iration Steppas), Tiny T (Freddie Cloudburst), Ras Terry Gad (Creation Rebel/Jah Trinity/CH1), Unit 137, Entebbe Sounds, The Great Wassie One, Mafia Black.
The documentary screening will be followed by a Q&A with some of the sound system members featured in the film, followed by a free after-premiere drinks reception in the Thirty Five café next to Goldsmiths Cinema from 9-10pm. The evening will also include the launch of the Sonic Street Technologies (SST) YouTube channel, with the YouTube premiere of UK Generation 2 Generation film on the night, together with a host of excerpts from video interviews filmed as part of the SST ongoing research. Here's the link to the SST YouTube channel – please subscribe.  
The film screening is a free event! 
The after-premiere reception will be followed at 10pm by a Young Warrior sound system dance at the Goldsmiths Student Union, a short walk across the road from Goldsmiths Cinema. Young Warrior is a Lewisham based sound system operator, producer, presenter and son of the legendary Jah Shaka. Young Warrior's dance will feature Shere Khan from London and Sisters in Dub, an all-female sound system collective from Coventry.  
As an extra treat, the internationally acclaimed Grenadian/ British Windrush generation artist Denzil Forrester will be sketching the action and the vibes of Young Warrior's dance. Please see this previous blog about Forrester's work. Currently Forrester has a major show in Miami, opening on 6th April to 24th September 2023. A Sound System Outernational event not to be missed! 
Tickets for the dance are available for purchase from the Young Warrior event page: https://www.dubwisefestival.com/product/e-ticket-goldsmiths-reggae-night-may-6-2023/ 
SSO#9 continues our efforts to open up Goldmsiths University to the local London and Lewisham sound system community. It follows the historic event of the Nine Night of the late great Jah Shaka that was held on the college campus on Friday the 21st of April.  SST was honoured to be approached by Jah Shaka's family to host the Nine Night. Over the course of the afternoon, more than three thousand friends and followers attended the session in the Great Hall. Full to capacity, it resounded with Nyabinghi drumming and Shaka's son Young Warrior's sound system spinning the vinyl.  Goldsmiths estate staff and security rose to the occasion with good will, calmness and hard work to make the afternoon a tremendous success. This was much appreciated and will be remembered as Goldsmiths biggest ever community event.   
Programme: 
6pm Doors 

 

6.20pm Introduction and film start  

 

7.30pm Film discussion and reflection  

 

9.00pm Drinks reception at Thirty Five Café (besides Goldsmiths Cinema) 

 

10.00pm Young Warrior dance at Goldsmiths Student Union 

 
We hope to see you there!
Sound System Outernational #9 Team  
Links:
For more information, please contact Dr Natalie Hyacinth: n.hyacinth@gold.ac.uk 
UK Generation 2 Generation film premiere Eventbrite free tickets: https://www.eventbrite.co.uk/e/sound-system-outernational-presents-sso9-uk-generation-2-generation-film-tickets-603885536897?aff=ebdshpsearchautocomplete 
Young Warrior event page: https://facebook.com/events/s/-goldsmiths-reggae-night-ft-yo/537029435187691/  
Young Warrior dance tickets: https://www.dubwisefestival.com/product/e-ticket-goldsmiths-reggae-night-may-6-2023/  
Please see the Sound System Outernational website for further information:  https://sites.gold.ac.uk/sound-system-outernational/