SST and SSO at the 8th Global Reggae Conference, 2024
Posted on 16 November 2023 in


by SST Team :
As our most attentive readers will already know, February 14th to 17th 2024 will see the 8th staging of the renowned Global Reggae Conference (GRC) celebrating and investigating the culture and technology of Jamaica's most famous musical instrument – the sound system.
Organized by the Institute of Caribbean Studies & Reggae Studies Unit, the GRC is an unmissable event for scholars and researchers in the field of reggae and dancehall studies, exploring these genres' multifaceted resonances across the African diaspora and beyond, or concerned with Jamaican popular music and culture more broadly. The global SST research community will be in attendance presenting their research findings, and more exciting partnerships and collaborations will be announced very soon by the GRC committee.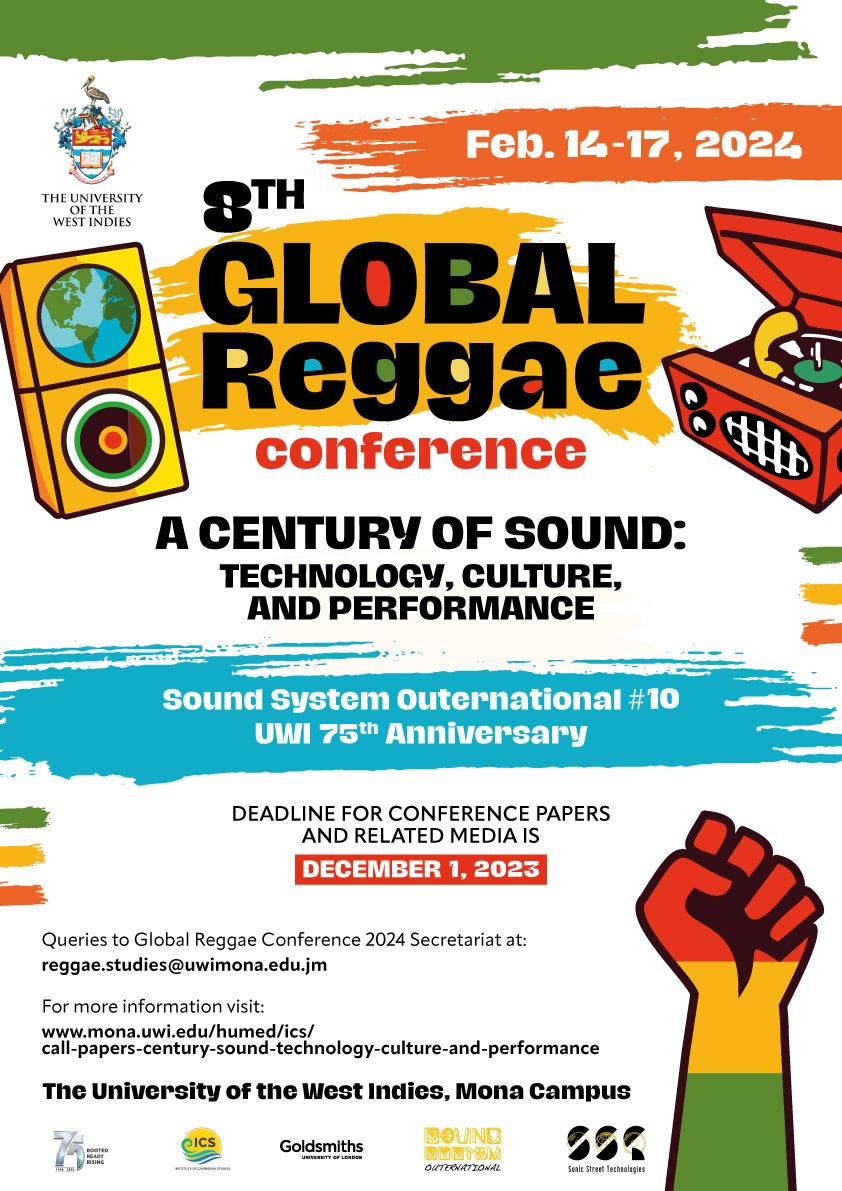 Over the course of almost two decades, the biannual GRC has been instrumental in nurturing and growing the academic community of reggae and dancehall scholars around the world, as well as providing a chance to get physically closer to the original source of music and culture: Jamaica, and particularly its capital Kingston, unsurprisingly designated Creative Music City by UNESCO in 2015. 
For this reason, we are extremely excited that SST will be an official partner for the GRC 2024 edition. This will occur under the banner of Sound System Outernational, our sister organization. SSO has already been part of the GRC in 2017 with SSO#3.  
SSO#10 will take over one day of the GRC with a full film program including SST research documentaries and short films, and more from different types of sound systems across the globe. We got a great response to our call.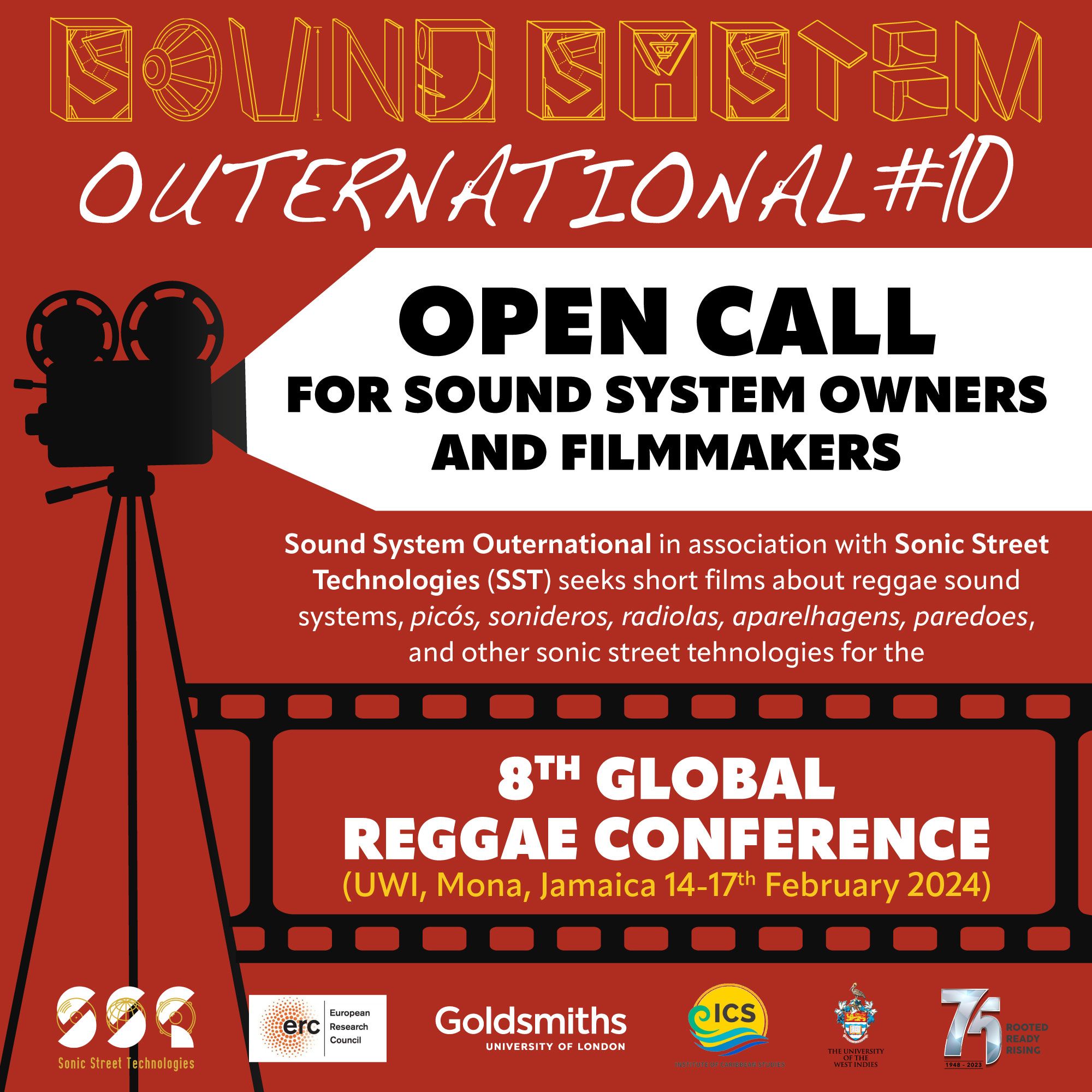 The GRC Call for Papers has just been extended, if you intend to send an abstract you have up to December the 1st. Please. find the description and guidelines for abstract submissions below.
See you at the University of the West Indies, Mona (Kingston, Jamaica) on February 14-17, 2024!
"From the 1940s to present day, sound systems have rocked the world with word, sound and power. From Kingston's streets to the world's biggest festival stages, the Jamaican-born institution of the sound system has deeply influenced the way music is produced, performed, remixed and enjoyed all over the world. The 2024 edition of the Global Reggae Conference celebrates and investigates the culture and technology of Jamaica's most famous musical instrument. 
The triennial Global Reggae Conference extends its reach to engage academics within a wide field of scholastic orientations and practices for its 8th staging. In celebration of the cultural, technological and productive space created by the sound system, both locally and globally, the conference aims to bring together students, scholars, filmmakers, sound producers, researchers, writers, critics, music aficionados, and artists to share research findings, ideas and perspectives. 
The conference comes as part of a larger project on music, popular culture and Reggae Studies from the Institute of Caribbean Studies and the Reggae Studies Unit. Over the last decade this has advanced the study of reggae and Jamaican popular culture and contributed to expanding scholarship and outreach through creative production, community engagement, research, experimentation, archive building, exhibitions and events. In the spirit of collaboration seen in previous conferences, the 2024 conference is being hosted in association with the European Research Council (ERC)-funded research project, Sonic Street Technologies (SST), and the research group Sound System Outernational, both based at Goldsmiths, University of London. 
We welcome proposals for academic papers; innovative presentations and displays made through uses of media, music and technology; sound system films and videos for screening as part of the Sound System Outernational # 10 film programme; and presentations / interventions from musicians, artists and students on the following broad themes: 
Culture: 
•      Social Media & Scenes of Sound
•      The Cultural Ecosystem of Sound
•      Gendered Dimensions of Sound System
•      Sound Systems and Musical Genres
•      Fashion, Style and Sound Systems
•      Sound Boys, Rude Boys and Aesthetics
•      Dancehall Aesthetics and the Arts
Global Reach: 
•      Sound System Diasporas
•      Sound Systems from Kingston to Birmingham
•      Sound System Cultures Around the World: Picos (Columbia), Aparelhagens, Radiolas, Paredões (Brazil) and Sonideros (Mexico)
•      Trade and the Global Sound Industry
•      Sound System Festivals and Events
Technology: 
•      The Recorded Format from Lacquer to Audio File
•      Sound, Videolight and the Moving Image
•      Sound, Medium and Message
•      Equipment Construction, Maintenance and Archiving
•      The Evolution of the Sound System Set
Performance:
•      The Performance of Recorded Music
•      HiFis, Discos and Jugglers
•      Performance, Sound and Method
•      The DJ/DJAY Methods
•      Performance Techniques
Politics:
•      Noise Regulation and Control
•      Policing, Harassment and Criminalization
•      Recognition and the Value of Popular Sound Cultures
•      Institutional Support and Pushback
•      Music and Sound as Liberation
•      Autonomous Zones and DIY Aesthetics
Legacies and Futures: 
•      Icons of Sound – Promoters, Impresarios and Maestros
•      Sound Systems and the Future of Musical Genres
•      Sound Systems and the Inner-City
•      Sound Professors, Dub Stations, Black Arks and Afro-Futurism
•      Sound System Futures
Proposals for presentations should include an abstract and the following information: name of author/authors; email address/es; name of associated institution; and keywords of presentation. For panel proposals, please include one abstract for each presenter and a panel abstract.
Abstracts for individual or panel presentations of no more than 250 words supported by a short biography no longer than 150 words, should be submitted to the conference organizers for international peer review. 
Selected papers will be peer-reviewed and published in themed volume. All paper submissions must conform to the UWI press style available here: https://docs.google.com/document/d/1NW6ashBtzIRYSp7FmV4ANwEspG_tGTyW8jabe_5QnbQ/edit?pli=1
Email abstracts to reggae.studies@uwimona.edu.jm with the subject heading 'A Century of Sound'".