Mighty Crown's last visit to Canada?
Posted on 27 September 2023 in


by Guest Author : Mark V. Campbell,
Dancehall music and culture have spread all over the world thanks to a dedicated infrastructure made of sound systems technologies, venues, and rituals. Among these, dub plate specials and the sound clash are two essential components. And Japanese crew Mighty Crown are one of the world-renowned ambassadors of these arts. In this week's blog, coordinator of SST Canada Dr Mark V Campbell takes us through Mighty Crown's farewell gig in Toronto as an opportunity to reflect on the current state of dancehall culture as a significant manifestation of Canada's SST scene.
by Mark V. Campbell   
It is nearly 11pm, and I believe I am at the right venue.  There is a familiar bassline leaking through the walls as I pass by. The venue's sound treatment sounded like it was built only for lounge-like festivities that regularly take place in this spot. It is my first time at Diamond's Billiards and Lounge, and it is approximately twenty minutes east of Toronto's city limits.
Housing prices in Toronto's suburbs have pushed out recent immigrant communities to regions east and northwest of the borders of Canada's largest city. The kinds of basement parties that characterized Caribbean community life in the 1980s and 1990s in Toronto's Scarborough, Rexdale and North York suburbs are now taking up space in large venues, like this pub that appears to hold close to a thousand party goers by the night's end. In the Canadian context, the continuation of Jamaican sound system culture and outdoor setting has been a staple of Caribbean diasporic life in this country, likely prior to the 1967 start of our Caribana festival. Tracking these diasporic movements across a country as geographically dispersed as Canada is difficult – coast to coast we are the same size as the North American continent.  Such vast geography poses real research challenges within our national boundaries, especially when trying to track SST on the margins of society.
I cannot hear anyone on the mic as I join the sparse line up to enter, it is clearly still early warm up time in the session. The sounds juggling tracks before the foreign headliner are the legendary Black Reaction, newcomer and rising star Joshua Lucas, King Turbo and the organizer of the event Spex Da Boss.  It is the headliner, Japan's Mighty Crown, who has me at the venue before midnight.  I needed a proper spot upfront to enjoy what we are told is the final appearance of this eight-time World Clash Champion.
For more than thirty years, Mighty Crown Sound system has been clashing and winning global sound clashes in Toronto and elsewhere.  One might find it unusual for a sound system from Japan to garner so much success globally, especially considering their lack of proximity from the Jamaican origins of sound system culture. Mighty Crown Sound System was founded in 1991 in Yokohama, Japan by members Masta Simon and Sami T.  It wasn't until 1995 when Mighty Crown built their own sound system speaker boxes, that they began clashing other sounds in Japan and eventually went overseas by 1997 to clash sounds in the United States.
The early 1990s can easily be described as a global boom for dancehall music as rising stars Patra reached the top of the U.S. Dance Charts, while Shabba Ranks eventually took home two GRAMMY awards. Both Patra and Shabba catapulted dancehall music to the farthest reaches of the planet. Moving to New York City from Yokohama early in their careers, Mighty Crown clearly found themselves immersed in sound system culture and mastered Jamaican patwa – a skills necessary to build their sound clash prowess. Before the end of the decade in 1999, Mighty Crown had won their first World Clash title in Brooklyn, New York.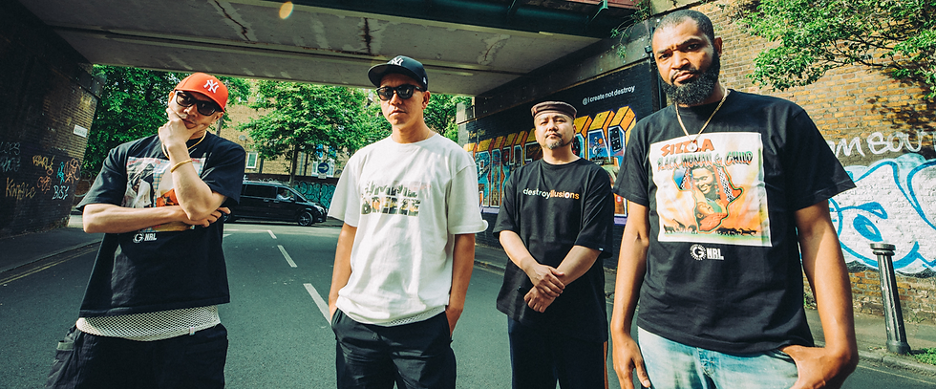 Mighty Crown crew. Photo credit: mightycrown.com
Currently, as I write this, Mighty Crown consists of four members, Ninja, Cojie, Sami-T and Masta Simon. On this night, three members of the crew take turns controlling the turntables and handling the toasting. When I arrive, Joshua Lucas is controlling the set, and I am enjoying this former student of mine shining in his element. Next up, King Turbo arrives on the set and despite regularly listening to their radio show, The Morning Ride, for more than a decade, this is the first time since I am enjoying them in person for at least fifteen years. King Turbo member, Slingshot jumps on the set after Joshua Lucas.  He respectfully bigs up tonight's headliners, Mighty Crown, reminding us that "this is history", "this is the last time you'll see Mighty Crown in Canada."  A specialness hangs in the air, we the crowd, respond with "hey hey heys".
King Turbo, alongside several other legendary sounds, have steadily ensured Toronto crowds receive their fix of new and classic reggae over the last three decades.  Slingshot, on the mic and on the controls, claims it's still an early warm period but he licks a Dawn Penn dubplate of her iconic track, "No, No, No". I try not to be impressed, but of course we know dubplates make a sound, so I am sweeted by this tune. In the Canadian context, there has been very little research done on dubplates, in my courses, I rely on Joshua Chamberlain's piece in the Jamaica Journal, "So Special So Special, So Special: The Evolution of the Jamaican Dubplate".  As Tasha Rosez of Gunz & Rozez Sound System reminds us, you are not a sound until you have dubplates, so this index of success is one we take seriously when rating a sound system.[1]
Slingshot preceded the Dawn Penn dubplate with "A Wild Wild World" King Turbo dubplate, and follows "No, No, No" with but quickly pulls up the track, after we hear a snippet of "King Turbo is Stepping Up".  Slingshot, during his pull up, shouts out the Malvern neighbourhood where King Turbo cut its teeth as a young sound. Malvern is part of the suburb of Scarborough, a location where many Caribbean migrants could afford townhomes and move out of the downtown core and other settlement spots of recent migrants. Migration to Toronto increased after Prime Minister Pierre Trudeau began allowing more Caribbean people to enter Canada, not just students and nurses. After a new Immigration act of 1976 a wider range of individuals were allowed to migrate into Canada. This policy change translated into larger audiences for sound systems, and eventually after moving out of apartments and into townhouses, the basement party.  Much like the scene painted in Sean Paul's video for "Get Busy," basement parties in the midst of Canadian winters, keep music fans, djs and dancers connected to Caribbean musics. Today some decades later, reggae and soca events now garner significant public real estate, a testament to the growth of the audiences and the success of many DJs whose keep crowds connected to the latest music from the Caribbean.
Mighty Crown takes the stage next and Sami-T launches into explaining his excitement and gratitude for being in Toronto.  When he decidedly chooses to big up Scarborough and Jane and Finch, two locations of heavy Caribbean settlement, the crowd pulls up closer to the stage. Mighty Crown knows their Toronto audience well. A large Japan flag begins to wave as a young man, likely too young to have witnessed Mighty Crown's illustrious career, hoists up what looks to be a flag size comparable to something that should adorn the top of a school's pole. Cellular phones raise up in numbers that surprise me for this crowd has very few millennials and likely more audience members that once carried a pager.  When asked by Sami-T, "How many people see Mighty Crown for the 1st time?" a lackluster response trickles out from the sizable crowd.  This response reminds us of the strength of the Mighty Crown brand to bring out their core audience as well as how deeply hidden the subculture of sound clash remains, even while the popularity of reggae music worldwide fluctuates on the backs of the few global stars that arise once or twice a decade.
As a veteran of sound system culture, Mighty Crown ensures we, the audience, know their selection prowess and especially their impressive selection of dubplates.  But to keep the crowd on their toes, Ninja mixes between some well-known classics, such as Tanya Stephens's "It's a Pity" and slips in newer classics already on dubplate.  I am caught off guard by the lyrics, "Mighty Crown come from a place called Yokohama," as the melodious voice of Chronixx transforms his track "Spanish Town Rocking" into a Mighty Crown dubplate.  The crowd shares my enthusiasm and surprise, our response commands a pull up of the tune.  Sami-T ensures the crowd "buss a blank for Toronto" and the call and response of reggae music is in full effect.
On the drop leaf riddim, as Sami-T commands the stage, the crowd's response (as Ninja turns down the volume on the track), "help me, Lord help me", provides one of the many exclamation points to the night.  This dubplate of T.O.K.'s "Footprints", already has the crowd in their feels, is followed up with "Mighty Crown you gotta be strong…".  Continuously, throughout the rest of the night we the audience are treated to a mixture of dancehall classics and dubplates, all of which require significant response, often precipitating a pull up.  It is a treat to hear how megastar performers like Damian Marley, Buju Banton and Bounty Killer switch up their lyrics in their dubplates, creating a one of one experience on their Mighty Crown dubplates.
For a sound system who has won World Clash 8 times, traveled the world extensively and contributed to the growth of reggae music in Japan, what could be on the horizon after their retirement from playing music?  Well, after participating in Damian Marley's Welcome to Jamrock Reggae cruises and winning sound clashes aboard the cruise ship trice, Mighty Crown has chosen to begin the Far East Reggae Cruise, with their first venture entering the Japanese waters in July 2023.  If the diasporic travels of Jamaican sound system culture from a tiny island in the Caribbean to numerous global outposts wasn't exciting enough, Mighty Crown's latest expansion onto the ocean is bound to bring sound system culture across the world's waterways and further expand the diasporic realities of sound system culture.
Just as Mighty Crown will be exploring new ventures, back in the Canadian context, the SST project will begin to explore previously unexplored terrain as we begin to map the various sound systems spread across Canada.  Caribbean migration to cities like Montréal, and Toronto is well documented, thus the sound systems in these regions, like Lindo P in Toronto and Little Thunder in Montréal are well known outside these cities.  Excitedly, I anticipate smaller cities such as Winnipeg, Ottawa and Calgary will have a robust underground sound system scene that we can share with the world on the SST global map and broaden Canada's footprint in this worldwide phenomenon.
About the author:
Mark V. Campbell, PhD is a DJ and Curator working at the intersections of Afrosonic and digital cultures. Mark founded and leads the Afrosonic Innovation Lab, the team responsible for the expansion of the SST project into Canada.
Notes
[1] See Gunz N Rozez Sound Subplate Story Video Mix, https://youtu.be/D9-KLycNb_k, accessed July 05, 2023
Further readings:
Chamberlain, Joshua. "So Special So Special, So Special: The Evolution of the Jamaican Dubplate".  Jamaica Journal, 33(1-2), 20-28.
MacLeod, Erin & Chamberlain, Joshua. (2016). Sweet Reggae Music Pon di Attack: A History of Soundclash. October 12, 2016. Accessed July 03, 2023 https://daily.redbullmusicacademy.com/2016/10/a-history-of-soundclash