Listening to Distant Drums. Interview with Steve Vibronics
Posted on 23 November 2021 in


by Brian D'Aquino :
Distant Drums is a mixed-media art installation designed and produced by Whispered Tales. It combines digital animation, music and dance to tell the story of Reggae sound system culture and the importance of music in the fight for racial equality and justice. Distant Drums impressively plays with the different elements which make a sound system session a multi-sensorial experience – the sonic, the visual, the material, the dancing body – and redeploys them into something different. Moreover, by putting sound system literally on a plinth, installed on street corners or in art spaces, it acknowledges this sonic street culture as an art form, celebrates it as a living heritage, and points towards new ways of imagining the public space.
As the installation's first year of touring ends, SST has reached out to Whispered Tales co-founder Steve Gibbs – better known in the sound system world as Vibronics – to know more about this exciting project and how it was able to channel his 25+ years of music production and tireless sound system touring into an educational project. 
—
Greetings Steve. Most people will know you as Vibronics, less is known about your sound works besides the reggae and dub scene. Would you introduce that? 
I have been writing music & creating sound design for theatre, installation, headphone tours, many projects in the arts world for 20 years now, as well as helping develop, fundraise and manage such work. It's something I have enjoyed a lot over the years, it constantly teaches me new techniques and gives me new interesting experiences. For me, some variety in my work is essential to keep me motivated & inspited.  
It can be said that Distant Drums actually merged these two backgrounds, interests and also work environments?  
Yes, Distant Drums has been the first real chance to combine these two (usually for me) separate worlds. It just seemed like the right time creatively and politically to bring these two worlds together, and for me to bring something new into the Reggae/Dub world.  
Can you tell us a bit more about the concept behind Distant Drums, starting from the installation's name? 
Distant Drums is all about the political and cultural history of Reggae and Sound Systems. As the legacy of something that originated in Africa, this idea of the beat of the African drum and the effect of the transatlantic slave trade being still central to Sound System culture is at the heart of the project. People dance to and enjoy Reggae and Sound System culture, it really is an amazingly engaging phenomenon, but its unique spirit was created through struggle and shaped by a colonial system, a system that in many ways (although much more subtle) is still very much in play. The name of the project tries to convey the echo of the past that still informs today, that colonialism and institutional racism continue to inform and define modern European culture.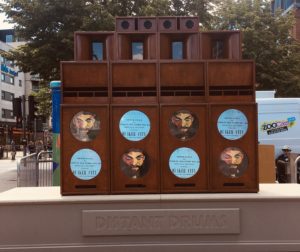 Madu Messenger has been your stage partner in Vibronics for some twenty-five years now. Can you tell us about his specific contribution to Distant Drums? 
Madu is an academic with a specialism in British black history and his experience, ideas and perspective inform Distant Drums from beginning to end. In our time together Madu has taught me so much of the unknown history of black people in the UK & beyond. The first time his academic knowledge came to the fore of a project was in the collaboration with Brain Damage (St.Etienne, France) where we created the album 'Empire Soldiers', which during the centenary of the end of World War 1 sought to shine a light on the important role of people from the Caribbean, Asia & Africa in this conflict. So for Distant Drums we worked again with Madu, this time as a writer and as a researcher. Madu's unique skill set means he can write beautiful prose, but also advise us and talk in depth about the very complicated issues around the subject matter of Distant Drums. 
I would like you to try and unpack the installation for us by touching upon its constitutive elements: the sonic, the visual, the material and the bodily. Let's start with the sonic: what about the music and sound in the installation, and how much of Vibronics is it possible to hear? 
It's a Sound System-inspired project, so music is an essential part. The soundtrack does contain a bit of classic Vibronics, but it tries to take the audience on a journey from Africa, through the history of Reggae into the present day. There are also sections that are composed more like film soundtrack music. The story that Madu wrote is beautifully narrated by Macka B, so the music needed to be in the background for the audience to really focus on the message of the show. Like I said before, I have done a lot of this kind of audio soundtrack for theatre / short film / installation, so I drew on the experience, but I really wanted a Caribbean / Reggae atmosphere. I am pleased with the results. There is a drum beating throughout the story – a kind of Distant Drum!
I love the way the Distant Drums sound system features screens where one would expect to find speakers. Can you anticipate what one will be able to see? 
The visual element is another key constituent of the show. For these we worked with a team in Bogota, Colombia from the El Gran Latido Sound System. Ricardo Vega runs the sound system but is also involved in the world of animation and graphic design. It seemed like the perfect fit, to have someone who intrinsically understood the subject matter and the kind of imagery associated with Reggae music. Madu is also a designer and a visual artist and it was his suggestion to draw on inspiration from Aaron Douglas, the Africam-American artist who headed up the Harlem Renaissance movement in the 1940s/50s. The team in Bogota managed to harness these elements and create visuals that were perfect for the show. We installed specialist high-brightness daytime viewing screens in the bass-bins and then edited the Colombian animations to fit in the story.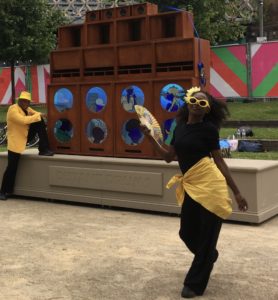 This also made me think about how much the visual is gaining momentum in the sound system world. In a sense, people increasingly seem to expect to see something relevant when they go to a sound system dance… 
Agree – my first Sound System sessions in Leicester, UK were with Aba Shanti-I back in the 1990s – at community centres where the only light was from a single lamp over the turntable! Lot has changed since then…
Despite playing on hundreds of sound systems across the world, Vibronics never had his own set. So I guess having to build the Distant Drums one was a stimulating challenge in itself. Btw, I love the choice of doubles (bass boxes) rather than scoops! 
Again, it was real teamwork. Living in Leicester there is so much knowledge about sound systems, so we worked with Jim Frize from BaDaBoom who has specialism in 12v + portable sound systems, and we worked with Nick from Dub Cub Promotions (giving new sound systems the chance to play in Leicester venues) who is a master woodworker. Between us we came up with a design that was traditional yet futuristic – that was the plan, anyway! For me the doubles (rather than scoops) were a must as they hark back to the older days of sound systems, but were also much more interesting for displaying visuals.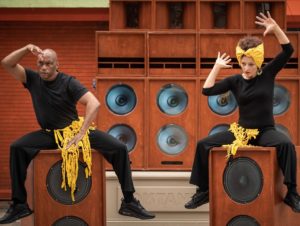 The way Distant Drums puts the sound system on a plinth is absolutely fascinating, especially in the aftermath of the BLM-driven statue-toppling movement. When all the colonial and racist memorials will be gone we should start raising our own monuments, and having one dedicated to a grassroots, collectively operated technoculture seems quite an inspiring image for the future we may want to achieve…. 
Sound Systems and the struggle and joy behind them need to be celebrated .. so we decided to raise ours on a plinth. Again, people have reacted so well to this, love to see the beauty of Sound System craft, but also all it stands for in terms of on-going struggles and institutional racism, issues that need to be raised onto a plinth until they are finally fully addressed. Distant Drums was designed to be a fully independent show that can appear on the street or at a festival, it has been amazing to go into a UK city centre and set the show up in front of shops or in civic places.
The dancing body is another crucial element to take part in the installation. How did the idea of having dancers come in, and who made the choreos? 
Donald Edwards from Chapletown, Leeds, who set up the first black dance organisation back in the 1980s, he choreographed the show. His Jamaican father had the first sound system in Leeds so Donalds was brought up on Reggae Music and Sound System culture. He is also a contemporary dancer of significant notoriety and his proposal was to marry these two approaches. We really feel he pulled this off successfully with a show that is full of movements that are recognisable from Sound System dances over the years , but are also contemporary and urban. The team of three performers worked so hard throughout the first  tour of 2021, even performing in the rain, as we brought Distant Drums to the streets.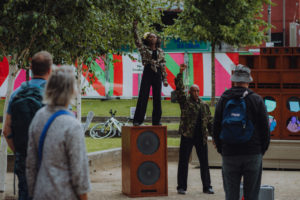 Do you see any room for this kind of installations and exhibitions outside of the UK?
For sure, we are talking to various people about it. Of course, the main barrier is cost, as it involves a minimum of 4 people and a large van. However, we are well versed in looking for cultural funding partners to make projects like Distant Drums happen, so we will be talking to people to try to make some international touring possible. We are also talking with our Colombian partners (El Gran Latido Sound System in Bogota) to see how a Spanish language version and a Latin American tour can be made. 
What are your impressions from this first year of touring, and when can we expect to see Distant Drums on the road again? 
Considering the challenges for all live events due to the coronavirus pandemic, 2021 has been incredible, by far exceeded our expectations. Most of the events were free with many being held on the main street in towns and cities across the country and to see people's reaction to the show in these settings has been great. We are currently reviewing our plans for 2022, but generally we will be promoting another UK tour of the show and taking it to many more city centres and arts and music festivals. We will also be following up on some leads to take Distant Drums overseas, but due to the costs involved, we will see how feasible this is. We are also doing some R&D around developing Distant Drums into a theatre show, to extend the story into a 90 minute experience with richer characters, more music and dance and the chance to give audiences a deeper understanding of the history and culture of Reggae Sound System.
All photo by Ingrid Mur, taken at Surge Festival 2021, courtesy of Distant Drums.